What's New?

What's the Update?

Read on:



STAGE 1: Funds raised for new building for School and Mosque: COMPLETED
STAGE 2: Double the Mosque Capacity! Target: £250,000: READ ON
"Whoever builds a Mosque for the sake of Allaah, Allaah will build for him a house in Paradise." (Reported by Bukhaaree and Muslim).
From your Salafi brothers and sisters in Birmingham, the Salafi Mosque Project Committee, Salafi Publications, and endorsed by the Salafi Scholars:
Finally, and all praise and thanks is to Allaah, we are in a position to purchase a permanent building outright at an astonishing price!
STAGE 1 IS COMPLETE
A huge and sincere heartfelt "thank you" to all those who helped and continue to help. May Allaah reward our brothers and sisters all over the world who helped. Ahlus-Sunnah are strong and generous. Even if they are poor, they are strong! Allaah nurtures and multiplies what they give until it becomes like a mountain!



WE ARE MOVING

NOW

NOW

NOW

TO "STAGE 2"

| NO DELAY!

Here's the Summary for Stage One:
Raised: £150,000 £178,000 £220,000

£232,000

£348,800

£408,000

£541,700

£600,000

Allaahu Akbar!



Help us to become totally debt-free: Please call or text Aleem Chaudry or Abu Amaan Shafiq on 07966544260
We have submitted an offer now officially to the agents acting on behalf of the owners. We will keep you updated of progress and response. Make du'aa for success.
Ways to donate for Stage 2: Click HERE
DEADLINE to raise remainder: 30th September 2013

DONE!
Live daily updates on twitter.com/SalafiMasjidCom

HELP LAY FOUNDATIONS FOR THE FUTURE

"BRICK BY BRICK"
We have divided the building into 600 "Bricks" - read on:
Each brick costs £1,000 - Once we've sold 600, we've got the Masjid and School.
10 bricks cost: £10,000
1 brick costs: £1,000
Half a brick costs: £500
Take your pick of a brick!
STAGE ONE BRICKS SOLD:
150 bricks, 178 bricks, 220 bricks, 232 bricks, 349 bricks, 408 bricks, 541 bricks 600 bricks ALL SOLD SOLD SOLD

- Get your bricks for STAGE 2

NOW
STAGE 1

Funds Thermometer

The thermometer shows the progress.
May Allaah bless this project, Aameen.

Read below for latest updates.
WHAT'S NEXT?

STAGE 2 - NOW THAT DOUBLES THE SIZE!
Uthmaan (may Allaah be pleased with him) said:

"Do you know that the Mosque of the Prophet was too small for its people?"

So what did they do about it?
Birmingham Salafi Masjid is too small and it cannot cope with the needs of the Salafi community, never mind the huge conferences we regularly arrange. Now that we have completed Stage 1, it means we can move the school out (and make a smaller second Mosque in another area of the City) and expand the existing building. We are changing the landscape of the Salafi da'wah in the West, may Allaah bless it!
Anything that we receive above the £600,000 that we have raised for Stage 1 now will go to Stage 2. So receive glad tidings O people of Sunnah. Let's keep pushing this project to its conclusion... generations and generations of Islaam and Sunnah in the West.
STAGE 2

Funds Thermometer
WHY THE EXPANSION?
At present over a thousand people visit the Mosque weekly for prayers, classes, Qur'aan classes and the Friday Sermon. There are several conferences held each year attended by thousands. It is clear to anyone attending that the Mosque capacity is woefully inadequate for the numbers that try to attend. Our poor sisters are confined to classrooms at the back of the Mosque that become overcrowded on Fridays, Conferences and in Ramadhaan. The present capacity is one thousand worshippers. We need to increase that to two thousand - and this can be done in the current building, by the Will of Allaah and His Kindness.
IS THERE A REWARD FOR ADDING TO AN EXISTING MOSQUE?
THE PROPHET HIMSELF ASKED FOR HIS MASJID TO BE EXTENDED!
On an occasion, the noble Companion, Uthmaan (may Allaah be pleased with him) addressed his companions saying:
"I ask you by Allaah and Islaam! Do you know that the Mosque of the Prophet was too small for its people? So the Messenger of Allaah (may the peace and salutations of Allaah be upon him) said: 'Who will purchase the land of the family of so-and-so and add it to this Mosque in exchange for better than that in Paradise?' So I bought it with the core of of my wealth and presented it to the Messenger."
(Reported authentically by at-Tirmidhee, no. 3703)
DOUBT THE REWARD? DOUBT NO MORE!
O BROTHER, O SISTER! Do you not wish to be counted amongst the pious who have a house built for them in Paradise? Uthmaan (may Allaah be pleased with him) took from the core of his wealth to aid the expansion of the Mosque. Do you not seek to emulate the likes of Uthmaan? We have estimated the Masjid expansion project to cost £250,000. Again your donation will be a continuous charity for you, even after your death. For every person that prays in this Mosque,  for every child that learns to read, recite and memorise Qur'aan, for every person that sits in the daily classes, for every attendee at the conferences, for you there is a reward! Imagine, O brother and O sister, indeed Allaah rewards abundantly the doers of good. At present we have daily Qur'aan classes for 150 children, conferences attended by thousands throughout the year, daily classes attended by hundreds – imagine the reward, O seeker of good!
How? Read on here
LET'S LAY SOME MORE BRICKS FOR A REWARD THAT HAS NO BOUNDS!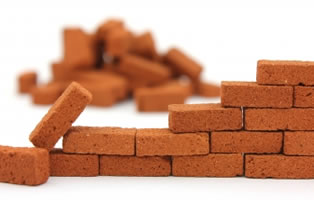 SOLD SO FAR
46 BRICKS,

87 BRICKS,

113 Bricks,

168 Bricks,

201 Bricks,

212 Bricks, 228 Bricks -
Get your bricks for STAGE 2
NOW
Buy A Brick!

Buy Half A Brick!

Share A Brick!
Stage 2 Financial Updates:
Target £250,000
So far raised:

£46,802

£87,520

£113,197

£168,364

£201,637

£212,148

£228,483

Call us on 0121-773-0033 or 0121-773-0003 with your Debit Card. Overseas and international donors: +441217730033 or +441217730003 – please have your Debit Card with you. Our opening hours: 10am to 6pm Monday to Saturday. Sunday 11am to 5pm. (All UK times)
What Is The Call Of The

Salafis

?
Since the early 90's a group of Muslims who follow the Qur'aan and Sunnah upon the understanding of the disciples of the Prophet (may the salutations of peace of Allaah be upon him) have been striving to convey the fundamental teachings of Islaam in the UK and the West.
Tawheed (monotheism) is the greatest of all the fundamentals - it is the call of all the Prophets and Messengers, from Noah to Muhammad. It means to direct one's worship and devotion to Allaah alone, the sole Creator of all that exists, and to abandon the worship of everything besides Him, regardless of what that may be.
Salafis follow the teachings of the Prophet Muhammad (salallaahu 'alaihi wassallam) as understood and conveyed by his Companions.
For more information regarding our call, please visit www.Salaf.com
Charity Is From Islaam
Allaah, the Mighty and Majestic, has stated: "Spend from what we have provided you before death approaches one of you and he says, 'My Lord, if only you would delay me for a brief term so I would give charity and be among the righteous.'"
Qur'aan 63:10

Jumu'ah Khutbah By Abu Khadeejah highlighting how charity is from the most noble of deeds that Allaah has legislated for the believers. He explains how simple kind acts can aid a person to attain Paradise - he also cautions from listening to those who stand in way of giving charity in Allaah's way.

Jumu'ah Khutbah By Abu Hakeem in the second part of which he eloquently highlights the various rewards that Allaah has prepared for those pious individuals who aid in establishing a place of worship for Allaah. After the Khutbah, both Abu Hakeem and Abu Khadeejah further elaborate on the affair of establishing a Masjid for Allaah, and its effect upon the Eemaan and piety. Some lovely stories concerning the generosity of the Sahaabah and the Prophet (salallaahu alaihi wassallam).
A man asked the Prophet (may the peace and blessings of Allaah be upon him): "Which charity brings the greatest reward?" He replied: "That you give in charity when you are healthy, feeling miserly, whilst you fear poverty and are in hope of becoming rich. So do not delay until you are at the point of death and then you say: "Give this to so-and-so and give that to so-and-so," when at that point [your wealth and property] already belongs to so-and-so!" (Al-Bukhaaree, no. 1419)
The Present Salafi Masjid
The location of the present Salafi Mosque is in the heart of Small Heath Birmingham. It is ideally placed within a bustling Muslim community, just behind the Coventry Road that leads into the city centre, whilst in the opposite direction lies Birmingham International Airport within a twenty minute drive.
Our current Mosque premises are rented, but we'd like to buy the building and make it a permanent Salafi Masjid for generations to come, by the Will of Allaah and His Aid.
We started fundraising for this project back in 2010 under the title, "Masjid as-Sunnah" with the aim of either purchasing the existing building, or building a new Masjid from scratch. In 2013 we decided that the best option is to purchase the existing building due to its size and ideal location.
2013: Our Present Financial State
Though Salafi Publications has a solid presence in the West and is a Muslim household name, supported and praised by dozens of Scholars of ahlus-Sunnah, it's financial situation has always been poor. The reason for this is that Salafi Publications has always ploughed its funds straight back into da'wah projects. It is for this very reason (after the Aid of Allaah) that Salafi Publications has such a huge presence on the landscape. We don't hold on to the wealth that our publications generate, we always invest it into more and more da'wah efforts. And this goes for Sadaqah money as well. What we do with money raised from book publications, audio sales, and donations can be seen by all. We have, and all praise is for Allaah, a Masjid, a day school, a bookstore, a childrens' Qur'aan school, dozens of books published, thousands of audios and over 25 websites of knowledge - this puts a huge strain on our finances. Bills alone amount to thousands a month, then we have salaries for teachers, caretakers and other staff. Add to that Masjid and school expenses - It all takes a toll on the finances.
Transparency Issues?
Salafi Publications accounts are transparent and submitted annually to the UK government appointed Charity Commissioners. We have appointed an independent chartered accountant that maintains our accounts, so that our operation is completely transparent. You also see on this site, updates to nearest pound of funds raised.

How Have Our Projects Survived With Little Funds
To maintain that which has been established, we use what is raised through publications, shop sales and donations to keep the "ship afloat". Al-hamdulillaah, it is true to say that our projects, through careful financial management over the past twenty years have given the impression that Salafi Publications is a wealthy and well-funded organisation. This is far from the truth, it is neither wealthy nor well-funded! What has been achieved from the blessings of Allaah, that are truly innumerable.
Salafi Publications has never received governmental funding, not in the UK and nor from the Middle East, alhamdulillaah. Our opponents spread many untruths claiming that Salafi Publications is financially aided by governments. It is merely from the bounty of Allaah, and then the support of the Muslims that so much has been achieved - which brings us to the present dilemma:
The Purchase Of The Present Mosque Building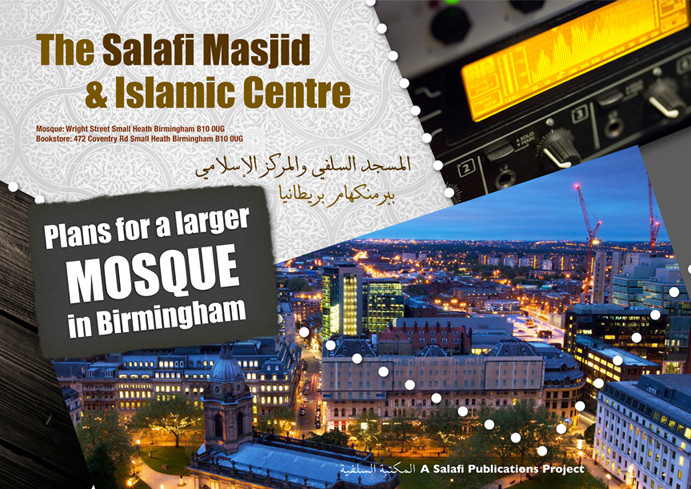 After careful consideration, consultation and thought, we have come to the conclusion that we must secure the future of the da'wah in the UK, so that it remains strong and the non-Muslims are continually invited to the true understanding of Islaam, calling them to worship of Allaah alone, and to the Sunnah of our Prophet Muhammad (may the peace and salutations of Allaah be upon him). It is also an amazing opportunity for you to receive a great portion of that immense reward for generations to come, piling up for you even after your death.
So our strategy is to purchase the present building. This will occur (inshaa'Allaah) in three distinct, transparent and measurable stages: 1. Relocation of the Salafi Independent School, 2. the expansion of the existing Salafi Masjid, 3. the purchase of the existing Masjid. We hope to achieve these targets by clearly "ring-fencing" all donations for the Salafi Masjid project.
We have a Salafi Masjid Project committee that are driven and dedicated to this cause:
Abu Khadeejah Abdul-Waahid, Abu Tasneem Mousaf, Abu Abdillaah Sa'eed Rehmat, Abu Amaan Shafiq, Abu Ubayd Ozan Bedir, and Alim Chaudry. This team is approachable and ready to answer any questions (or at least get you the right answer!) We really want this project completed within the next few years. May Allaah bless it, and give it success.
We have published a Salafi Masjid Brochure outlining our project and ways you can help. Email us, and we will send you a PDF version, or post a hard copy out to you. Please read our Projects page for more details.
Please link to this site!