WHAT'S NEXT? STAGE 2 – NOW THAT DOUBLES THE SIZE!
Uthmaan (may Allaah be pleased with him) said:
"Do you know that the Mosque of the Prophet was too small for its people?"
So what did they do about it?
Birmingham Salafi Masjid is too small and it cannot cope with the needs of the Salafi community, never mind the huge conferences we regularly arrange. Now that we have completed Stage 1, it means we can move the school out (and make a smaller second Mosque in another area of the City) and expand the existing building. We are changing the landscape of the Salafi da'wah in the West, may Allaah bless it!
Anything that we receive above the £600,000 that we have raised for Stage 1 now will go to Stage 2. So receive glad tidings O people of Sunnah. Let's keep pushing this project to its conclusion… generations and generations of Islaam and Sunnah in the West.
STAGE 2 Funds Thermometer
[thermometer raised=228483 target=250000]
WHY THE EXPANSION?
At present over a thousand people visit the Mosque weekly for prayers, classes, Qur'aan classes and the Friday Sermon. There are several conferences held each year attended by thousands. It is clear to anyone attending that the Mosque capacity is woefully inadequate for the numbers that try to attend. Our poor sisters are confined to classrooms at the back of the Mosque that become overcrowded on Fridays, Conferences and in Ramadhaan. The present capacity is one thousand worshippers. We need to increase that to two thousand – and this can be done in the current building, by the Will of Allaah and His Kindness.
IS THERE A REWARD FOR ADDING TO AN EXISTING MOSQUE? THE PROPHET HIMSELF ASKED FOR HIS MASJID TO BE EXTENDED!
On an occasion, the noble Companion, Uthmaan (may Allaah be pleased with him) addressed his companions saying:
"I ask you by Allaah and Islaam! Do you know that the Mosque of the Prophet was too small for its people? So the Messenger of Allaah (may the peace and salutations of Allaah be upon him) said: 'Who will purchase the land of the family of so-and-so and add it to this Mosque in exchange for better than that in Paradise?' So I bought it with the core of of my wealth and presented it to the Messenger."
(Reported authentically by at-Tirmidhee, no. 3703)
DOUBT THE REWARD? DOUBT NO MORE!
O BROTHER, O SISTER! Do you not wish to be counted amongst the pious who have a house built for them in Paradise? Uthmaan (may Allaah be pleased with him) took from the core of his wealth to aid the expansion of the Mosque. Do you not seek to emulate the likes of Uthmaan? We have estimated the Masjid expansion project to cost £250,000. Again your donation will be a continuous charity for you, even after your death. For every person that prays in this Mosque,  for every child that learns to read, recite and memorise Qur'aan, for every person that sits in the daily classes, for every attendee at the conferences, for you there is a reward! Imagine, O brother and O sister, indeed Allaah rewards abundantly the doers of good. At present we have daily Qur'aan classes for 150 children, conferences attended by thousands throughout the year, daily classes attended by hundreds – imagine the reward, O seeker of good!
How? Read on here
LET'S LAY SOME MORE BRICKS FOR A REWARD THAT HAS NO BOUNDS!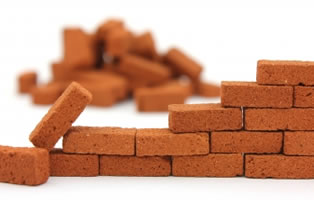 SOLD SO FAR
46 BRICKS, 87 BRICKS, 113 Bricks, 168 Bricks, 201 Bricks, 212 Bricks, 228 Bricks – Get your bricks for STAGE 2 NOW
Buy A Brick! Buy Half A Brick! Share A Brick!
Stage 2 Financial Updates: Target £250,000
So far raised: £46,802 £87,520 £113,197 £168,364 £201,637 £212,148 £228,483
Call us on 0121-773-0033 or 0121-773-0003 with your Debit Card. Overseas and international donors: +441217730033 or +441217730003 – please have your Debit Card with you. Our opening hours: 10am to 6pm Monday to Saturday. Sunday 11am to 5pm. (All UK times)